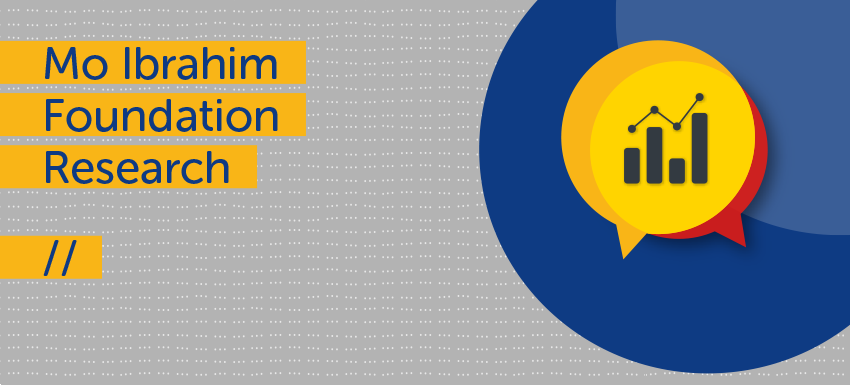 The Foundation produces three flagship research products:
Ibrahim Index of African Governance (IIAG). The IIAG dataset is released every two years, accompanied by an Index Report outlining the main findings of the Index, continental, regional and country data, and other resources and analytical tools.
African Governance Report. Every other year, the Foundation publishes an annual African Governance Report, utilising the IIAG in relation to a specific topic relevant to African governance, such as Africa's progress towards its development agendas.
Ibrahim Forum Report. The Report is published annually ahead of the Ibrahim Forum at the Foundation's annual Ibrahim Governance Weekend. It provides the most recent facts, figures and analysis on a specific topic identified as a priority for African governance, such as African migrations, Africa's youth, urbanisation and agriculture.
The Foundation also works with other organisations to produce joint research products and publishes other research publications briefs and analysis throughout the year.
Research Spotlights

As the COVID-19 context represents a key challenge for African leadership and governance, the Foundation has decided to focus its resources and expertise on providing the data and analysis relevant to address the impact of this crisis.
MIF aims at telling the African story of COVID-19, assessing the continent's capacity to manage the pandemic, and its economic, political and social impact, including how it affects African citizens.
Data and analysis are regularly updated. Our COVID-19 report analyses Africa's readiness and capacity to manage the pandemic:;
COVID-19 in Africa: A call for coordinated governance, improved health structures and better data, April 2020
Download File (pdf)
Research briefs on COVID-19

Other key documents relating to the Index and Forum can be found in the downloads sections, linked on the right.
The Foundation also produces research outside of these major products on issues surrounding the focus of the Foundation's work, including a series of collaborative research papers, intended to provide in-depth analysis and insights on key issues relevant to governance and leadership in Africa, in addition to our main research outputs.
Other research publications, briefs and analysis