Spotlight 9: Resource dependency, COVID and the move towards diversification
By Ben Chandler, Researcher
Prior to the COVID-19 pandemic, many African countries experienced years of uninterrupted growth. Much of this growth had been spurred by the export of primary commodities, unprocessed raw materials such as crude oil, copper or cocoa, to countries outside the continent. In Africa, primary commodities account for a greater share of exports than for any other world region. United Nations Conference on Trade and Development (UNCTAD) data show that in 2019, primary commodities made up 76.7% of the continent's exports, over twice their share in North America and more than three times their share in Europe or Asia.
Commodities make up a larger share of exports in Africa than any other world region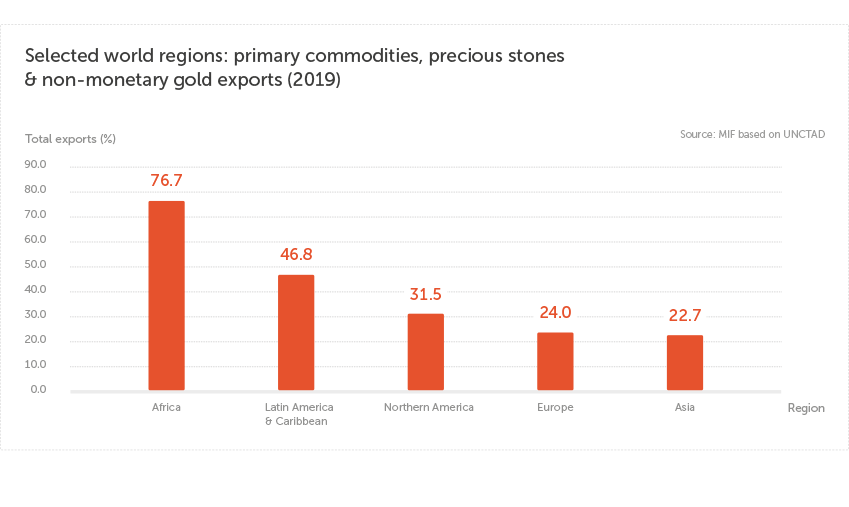 Research Spotlight series
A new series exploring data and key findings from the 2021 Ibrahim Forum Report.
The COVID-19 crisis has underscored the vulnerability of commodity-led growth
The vulnerabilities of commodity dependency have been under the microscope for some time, with terms such as 'resource curse' or 'Dutch disease' long present in the continent's economic discourse. The impact of the pandemic has re-emphasised these vulnerabilities as many of Africa's primary export partners closed their economies, supressing demand for commodities and pushing down prices. Demand for fuels and non-precious metals tanked in the first half of 2020, while prices of some agricultural commodities such as tea and coffee hit ten-year lows.
The sudden plunge in commodity prices in early 2020 triggered a liquidity crisis for several African governments, as well as businesses operating on the continent. Many countries were left short of foreign currency as a result. Most of the continent's floating currencies lost value against the dollar, pushing up the price of imports and increasing the relative cost of external debt. The commodity crash also limited the fiscal space of commodity dependent countries to respond to the pandemic. Between 2009 and 2018, an annual average of 23.8% of revenue for 34 African countries came directly from natural resources.
Oil dependent economies feel the sting
The situation was particularly challenging for the continent's oil dependent economies. Demand for crude petroleum dropped by one third of its typical level. The average OPEC (Organisation of Petroleum Exporting Countries) basket price dropped by -50% per barrel, hitting all-time lows of $12.22 per barrel on 22 April 2020, with serious consequences for countries' revenues.
OPEC barrel price hits all-time low, constraining finances for the continent's oil exporters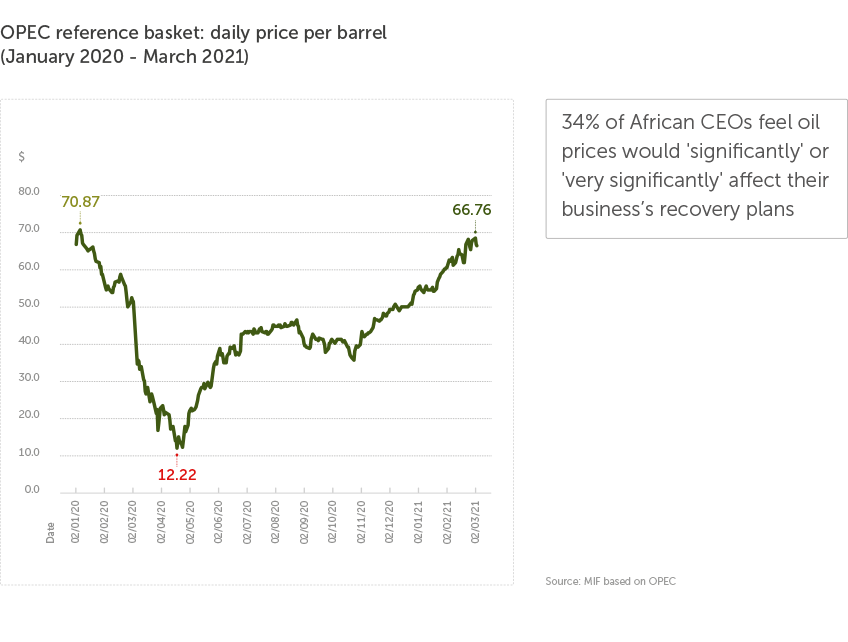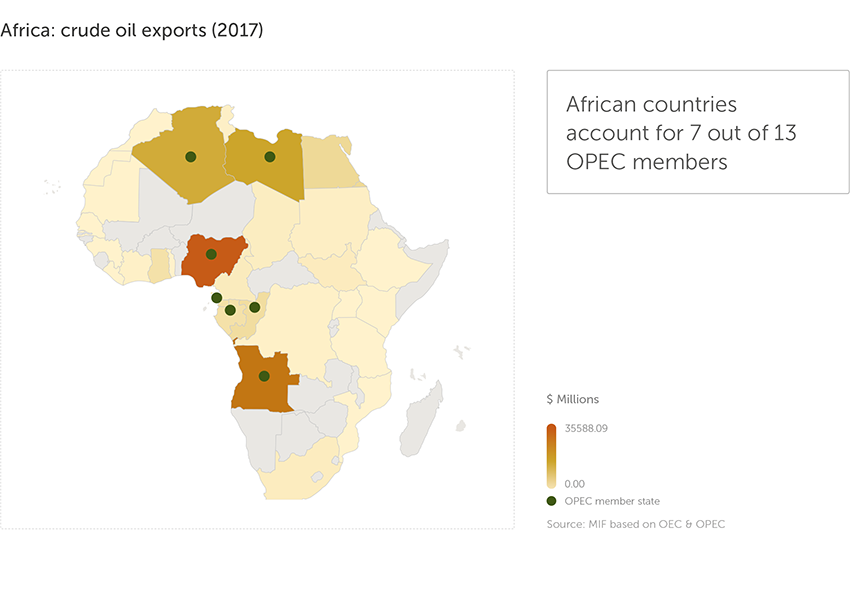 In Nigeria, the continent's top oil exporter, crude sales account for more than half of government revenues and over 90% of foreign exchange. Crude oil accounts for 90% of revenues in Angola and 73% in South Sudan, while in Libya, hydrocarbons accounted for 96% of the budget between 2014 and 2018. Repercussions were also felt in the private sector with an Oxford Business Group Africa COVID-19 CEO Survey showing that 34% of African CEOs feel oil prices would "significantly" or "very significantly" affect their business's recovery plans.
Lack of diversification leaves little room to manoeuvre during a crisis
Africa's exports are the least diversified of any world region and are twice as concentrated (see graph below) as anywhere else. As such, many countries have an overdependence on commodity exports for government spending, while global shocks can disproportionately impact local economies. According to the World Trade Organization (WTO), the output losses reported in Africa in 2020 were primarily spurred by oil and metal exporting countries. The outlook was more promising for more diversified economies, such as Kenya and Tanzania, which are expected to have a speedier recovery once the crisis subsides.
Africa's exports are the least diverse of any world region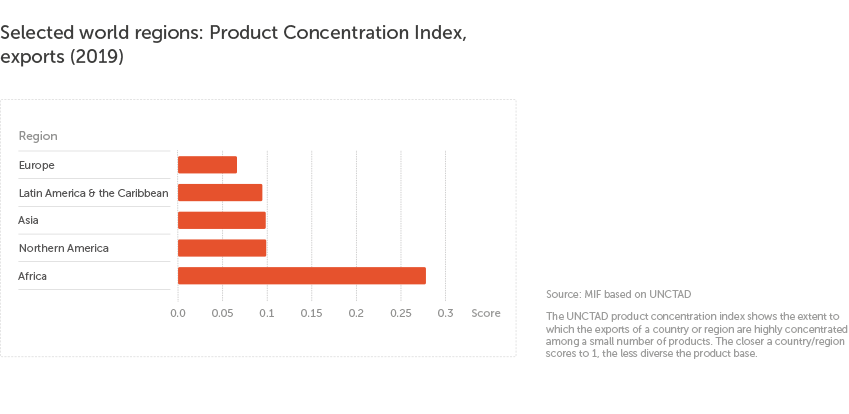 Responding to the COVID-19 crisis - a unique opportunity to diversify?
As the Mo Ibrahim Foundation and others have argued, the crisis presents an opportunity for Africa's resource-dependent economies to restructure and diversify. For the continent's oil dependent nations, extraction and exportation have been capital intensive, with a process dependent on machinery, creating few associated jobs. Even in Nigeria, the continent's largest crude producer, only 0.5% of the population work in extractives. Diversification can protect against global shocks such as COVID-19, as well as being an important tool for poverty reduction and job creation.
Targeted industrial policies that focus on processing raw materials in-country for consumption in domestic or regional markets could create jobs and facilitate diversification. Data suggests that value-added manufacturing processes are positively correlated with economic diversification. We know that when African countries trade among themselves, they exchange more manufactured and processed goods, have more knowledge transfer, and create more value. The African Continental Free Trade Area (AfCFTA), which came into force in January 2021, will undoubtedly be a key enabler of this process.
Further development of labour-intensive sectors such as agro-industry, tourism, transport and logistics, horticulture, and IT services, could bring Africa many benefits in terms of job creation, while reducing dependency on primary commodities. The continent has already shown much promise in tourism, with the second fastest growing tourism sector in the world prior to COVID-19. Governments can also build on the growing digital economy, with a young generation of digital entrepreneurs and over 640 tech hubs active across the region. Finally, environmental concerns will be at heart of diversification efforts, with the African Union (AU) in the process of developing a Green Stimulus Programme to boost the recovery and support key sectors such as ecotourism and biodiversity.