Spotlight 1: Agenda 2063 & the SDGs offer clear roadmap for aligning COVID-19 recovery
By Ines Schultes, Senior Researcher

Africa's development path for the decades to come is guided by two main agendas: the African Union's Agenda 2063 with its seven Aspirations and the United Nations' (UN) 17 Sustainable Development Goals (SDGs).

The health, social and economic crises triggered by the COVID-19 pandemic in Africa have put on hold progress towards both agendas and may well lead to the reversal of some recent gains. As countries scale up their efforts for the COVID-19 recovery, the two frameworks can provide a comprehensive and integrated roadmap ahead, ensuring that policies and budgets are well coordinated.
Africa was already off track before COVID-19
Even before the pandemic, Africa was mostly off track to reach the 2030 Sustainable Development Agenda, with the continent only slightly above halfway to achieving the 17 SDGs and no African country on track for 13 of the 17 SDGs.

Research Spotlight series
A new series exploring data and key findings from the 2021 Ibrahim Forum Report.
COVID-19 derailed progress and exacerbated pre-existing challenges
The 2020 Africa SDG Index reveals that some negative impact of COVID-19 is expected on 16 of the 17 Goals and knock-on effects might be seen across the range of SDGs due their interlinkages.

The 2021 Ibrahim Forum Report, assessing the impact of COVID-19 in Africa one year on, also presents a sober outlook for the continent, with the pandemic derailing progress or exacerbating pre-existing challenges in key areas:
Rising poverty and food insecurity (SDG1 & SDG2 and Aspiration 1)
According to the World Bank, extreme poverty was on the rise in 2020 for the first time in over 20 years. The African Development Bank (AfDB) predicts that approximately 70 million Africans will slide into extreme poverty over the course of 2020 and 2021. The United Nations Economic Commission for Africa (UNECA) projects this figure could potentially be as high as 88 million, bringing the total number of extreme poor in Africa to 514 million, just short of 40% of the continent's population. In addition, food insecurity was already on the rise prior to the pandemic due to persistent conflicts and the onset of the continent's worst locust plague in several decades in 2018. Over 100 million Africans faced emergency or catastrophic levels of food insecurity in 2020, an increase of +60% from 2019.
Accelerating a pre-existing learning crisis (SDG4 & Aspiration 1)
Even before COVID-19, Africa was facing a learning crisis. Students' minimum proficiency levels in sub-Saharan Africa are already the lowest globally with a learning deprivation gap of around 20%, double the global average rate. Over the first year of the pandemic, African schools closed for about 26 weeks which may lead to more school dropouts and worsen learning inequalities. With an average school closure in Africa of almost seven months, the 23 low-income countries on the continent could lose an average of 0.5 learning-adjusted years of schooling, dropping from an average of 4.3 years to 3.8 years.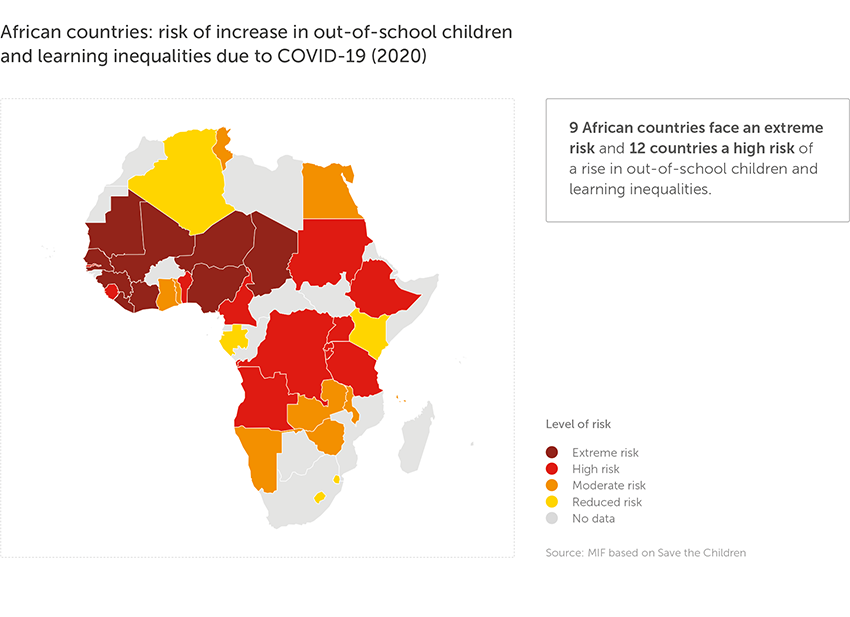 Setbacks in gender equality (SDG5 & Aspiration 6)
The pandemic is threatening recent progress in gender equality, with severe consequences on women's health as well as their economic and social wellbeing.
The impact of COVID-19 risks widening the gender gap in education as girls and young women are at a higher risk of dropping out from school and are less likely to benefit from remote learning. It is estimated that approximately one million girls in sub-Saharan Africa may never return to school due to becoming pregnant during COVID-19 school closures.
The economic and financial effects of COVID-19 tend to be gendered as 92% of women in sub-Saharan Africa work in the low-paying informal sector which offers less legal and social protection and suffers more disruptions during public health emergencies. At the same time, poverty rates and food insecurity are likely to increase more for women than for men.
Stay-at-home orders issued during the pandemic have triggered an increase in sexual and gender-based violence (SGBV) against women and girls across the world while access to support and emergency services to curb SGBV have declined due to the pandemic and its related restrictions.
The pandemic's impact emphasises the importance of the development agendas
Although COVID-19 has dealt a real blow to Africa's development progress, it has also highlighted the primary role of the two development agendas which aim to dismantle vulnerabilities and put people's well-being at their centre. For instance, more attention to SDG implementation before the pandemic might have mitigated some of its impact. Plans under the UN's 'Decade for Action' for the SDGs should therefore not be sidelined by the pandemic recovery; rather this is an opportunity to align policies more closely with the SDGs. As highlighted during the 2021 Ibrahim Governance Weekend by Amina J. Mohammed, UN Deputy Secretary-General, the pandemic recovery should not lose sight of the SDGs as they are providing a roadmap that will make inclusive, resilient and sustainable development a reality.