Spotlight 5: Africa's third wave and the threat from variants
By Omar Zaghouani, Junior Analyst
6.5 million cases and rising, with a case fatality ratio above the global average
According to the Africa Centres for Disease Control and Prevention's (AfCDC), as of 27 July 2021, a total of 6,507,319 COVID-19 cases and 165,294 deaths have been reported across Africa. These represent 3% of all cases and 4% of all deaths reported globally. The African Continental Case Fatality Ratio (CFR) is 2.5%, with 24 AU Member states reporting a higher CFR than the global CFR of 2.1%.
Research Spotlight series
A new series exploring data and key findings from the 2021 Ibrahim Forum Report.
As of 27 July 2021, 53 African countries are reporting larger outbreaks of local transmission. 54 African countries have experienced a second wave of COVID-19 cases, with 31 already experiencing a third. In two countries, Algeria and Tunisia, there has even been a fourth wave.
Community transmission: Countries experiencing larger outbreaks of local transmission defined by large numbers of cases not linkable to transmission chains and multiple unrelated clusters in several areas of the country.
Many countries are still at peak risk
According to the AfCDC, most new COVID-19 cases reported between 19-25 July 2021 are from Southern Africa (58%), followed by Northern Africa (29%), Eastern Africa (7%), Western Africa (5%) and Central Africa (1%). Six countries alone account for 69% of the new cases in this week: South Africa (35%), Tunisia (10%), Morocco (9%), Zimbabwe (6%), Mozambique (5%) and Botswana (4%).

There has been a 16% decrease in the number of new cases reported compared to the previous week, however this is accompanied by a 22% decrease in testing over the same period and a 5% increase in new deaths. This is the second consecutive week in which new cases have decreased, following eight consecutive weeks of a fast-moving surge.

Using the COVID-19 Data Repository by the Center for Systems Science and Engineering (CSSE) at Johns Hopkins University, we can see that this eight-week surge led to a peak of more than 40,000 cases per day in the 14-day moving average of new cases by mid-July, more than twice that of the first peak and higher than the second peak by about 10,000 cases. While the continental curve seems to be on the downward trend, when we exclude South Africa, we see in fact that despite a short respite, the exponential growth of the virus is still very much ongoing.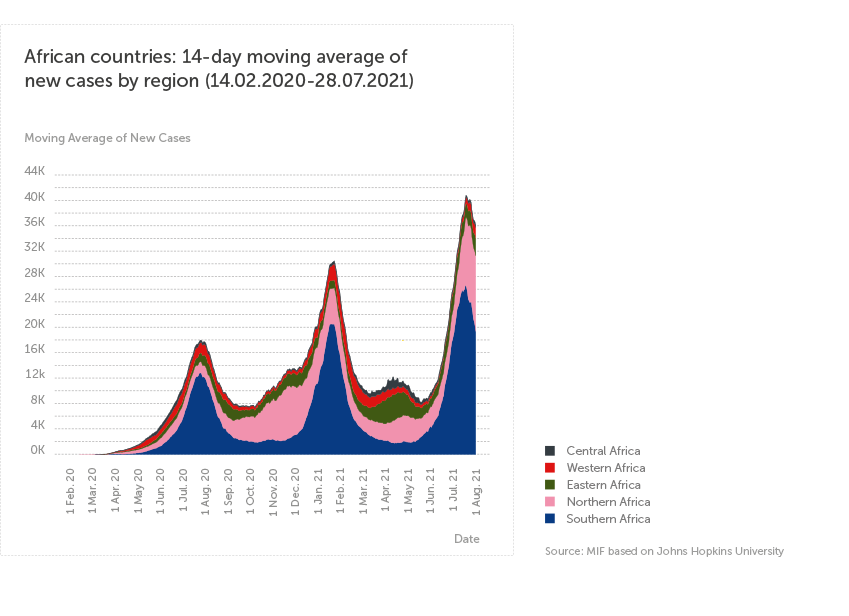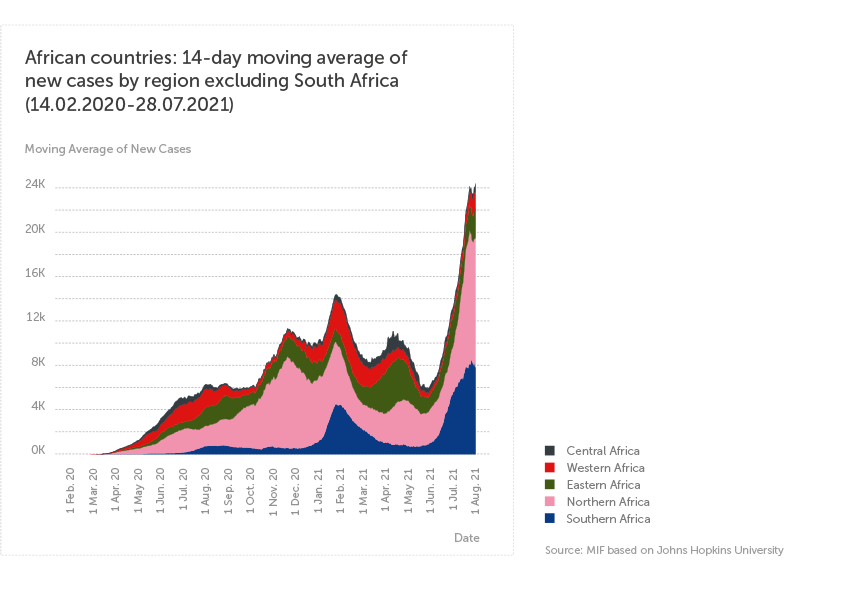 The increasing threat of variants calls for strengthened genomic sequencing
This new wave of infections seems to be mainly driven by the arrival of the Delta variant on the continent. As of 21 July 2021, 45 African countries have reported the presence of at least one of the Alpha (38 countries), Beta (32 countries), and/or Delta (21 countries) variants of concern (VOC), according to the AfCDC. Of the aforementioned six African countries accounting for nearly two-thirds of the new cases between 19-25 July 2021, four (South Africa, Tunisia, Morocco and Botswana) have reported the presence of this highly transmissible variant, as we can see from the map below.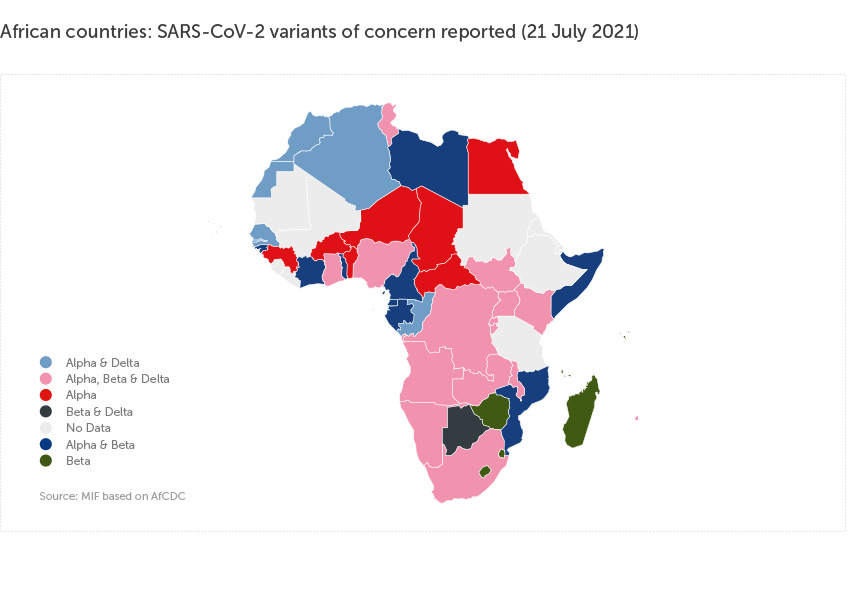 By altering the spike proteins, new variants may become more transmissible and less easy to diagnose and may result in more-severe disease. Additionally, they can potentially evade immunity from natural infection or vaccines.

A recent study in the New England Journal of Medicine has shown the AstraZeneca vaccine provides minimal protection against mild to moderate COVID-19 infection resulting from the Beta variant in young South Africans. In response, the South African government suspended the administration of 1 million AstraZeneca doses and is shifting focus to the Johnson & Johnson vaccine, shown to be more effective against the variant.

As the pandemic progresses, we see more evidence linking the new peaks to the emergence of new variants. On 14 April 2021, Nigeria reported the detection of 55 different variants, bringing the total number of variants in Africa to 200. Nigeria contributes more than a quarter of variants in Africa, which may indicate worrisome ongoing community spread as well as accelerated viral mutation.

In Africa, the primary strategy for COVID-19 has been to limit transmission and minimise harm. Delaying and diminishing the peak of outbreaks can help health systems better manage the surge of patients and communities better adapt to the disruption of social, cultural, and economic activities. But the emergence of VOCs has highlighted the inadequate national genomic sequencing capacities in many countries and led to calls for expanded virus sequencing. Genomic sequencing analyses the virus sample taken from a diagnosed patient and compares it with other cases, allowing to identify differences between COVID-19 strands.

In response to this challenge, in October 2020, the AU through the AfCDC, launched the Africa Pathogen Genomics Initiative (Africa PGI). This is a $100 million, four-year partnership to expand access to next-generation genomic sequencing tools and expertise to strengthen public health surveillance and laboratory networks across Africa.

Additionally, a continent-wide training series on SARS-CoV-2 sequencing was initiated on 22 June 2021 to build a skilled workforce that can provide rapid and representative genomic data to inform the continental COVID-19 pandemic response.

The increasing threat of variants offers an opportunity for the continent to sustain these initiatives and strengthen genomic sequencing capacity in Africa, for a strengthened capacity against COVID-19 and other public health challenges.