Spotlight 3: Financing the COVID-19 response: urgent need for liquidity as the third wave surges in Africa
By Ben Chandler, Researcher

On 15 July, 23 African leaders met in Abidjan and called for a $100 billion replenishment of the World Bank's International Development Association (IDA), the development lenders fund for the world's poorest countries. This would represent the IDA's largest-ever replenishment. Their call came as governments across Africa are reeling from the holes COVID-19 has blown in their budgets as the continent is gripped by a third wave of the virus.

With the third wave threatening to be more aggressive than either of the previous two, African economies are facing a financing crisis as governments look to navigate their way through and out of the pandemic. The slowdown in global trade, particularly in 2020, has seen government revenues decline. Simultaneously, local currencies have depreciated against the dollar, increasing the cost of debt servicing and imports.

Concerningly, the decline in revenues and increased debt burden has been mirrored by a pressing need to implement costly mitigation measures. Governments on the continent have often been unable to deliver the required outlays, with fiscal response packages falling short of other regions. In 2020, African countries spent an average of 3.0% of GDP on COVID-19 response measures, considerably less than the global average of 9.2%. The discrepancies are even starker at the per capita level, with African countries committing just under $80 per person in additional fiscal spending, six times less than in China and 200 times less than in the US.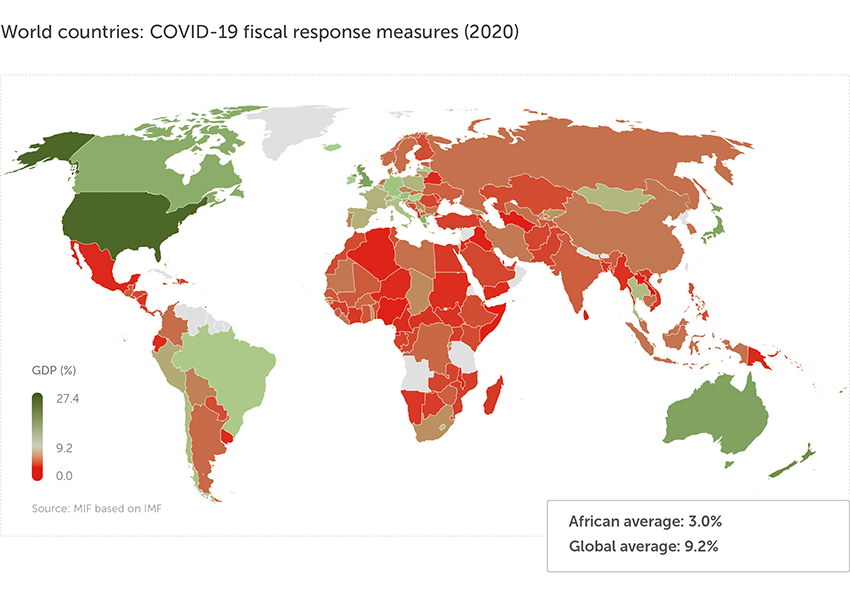 Research Spotlight series
A new series exploring data and key findings from the 2021 Ibrahim Forum Report.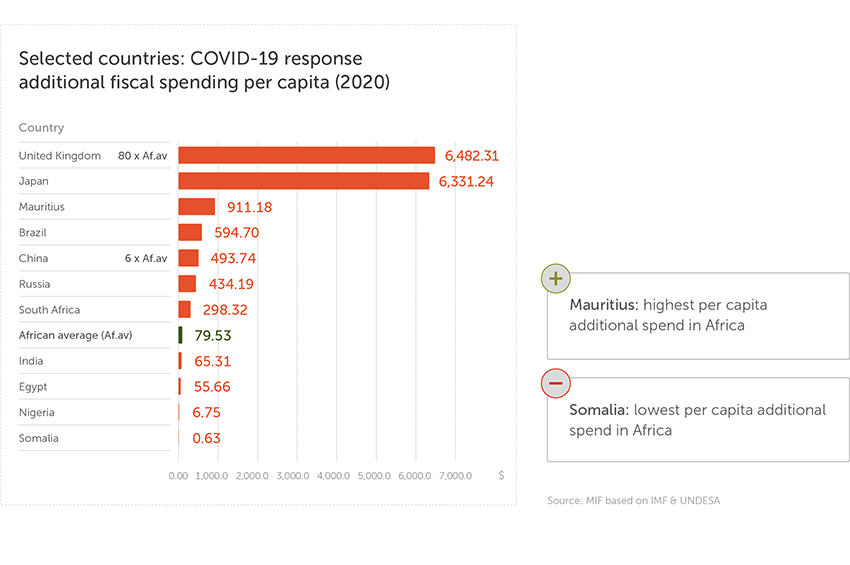 Short-term relief: liquidity is the priority
In the short-term there is a pressing need for immediately accessible finance (liquidity), that will give governments the fiscal space to direct funds towards areas essential for the COVID response such as health systems and social safety nets. Some support has already been provided. IMF lending to Africa has increased from an annual pre-pandemic average of $4.2 billion to more than $24.9 billion, while bilateral partners have suspended debt servicing payments to free up fiscal space as part of the Debt Service Suspension Initiative (DSSI).
However, these measures fall short. IMF lending is subject to conditions such as policy adjustments, that do not account for the unique circumstances of the current crisis, while the DSSI in a best-case scenario would only cover 15% of eligible governments' external debt payments.
The shortfalls of previous measures have led to the call by African leaders for a replenishment of the IDA. This follows previous requests for financial assistance at the Paris Summit on the Financing of African Economies in May and the G20 Finance Ministers meeting in Venice in July. Additionally, the United Nations Economic Commission for Africa (ECA) has proposed that International Financial Institutions (IFIs) and other multilateral development banks should relax their risk management policies to increase their own lending capacity to the continent.
Many African governments see solutions in the issuance of new Special Drawing Rights (SDRs), an international reserve asset that functions as an artificial currency, freely exchangeable for hard currencies like USD. Non-conditional and with no impact on credit ratings or future credit market access, SDRs represent an attractive source of liquidity for African governments without adding to debt burden. Following the 2021 Spring IMF Meetings, the Fund announced a likely new allocation of $650 billion in SDRs, for implementation in August 2021. However, based on the current allocation system, Africa would only get 6.8% of this.
The promised reallocation of SDRs to Africa: clarity is needed on when and how
The key question now is how to reallocate unneeded SDRs from rich countries to address specific challenges and needs in poorer regions such as vaccine production, food security and support for public services. ECA has proposed that the IMF should on-lend at least $30 billion worth of SDRs to establish a Liquidity and Sustainability Facility. This will lower borrowing costs and ensure short-term debt obligations can be met without cutting spending essential for the pandemic response. The South African President, Cyril Ramaphosa, has suggested a quarter of SDRs, about $162 billion, should be made available to African countries, calling on rich countries to donate their allocations.
The Paris Summit made a promising start in this regard, with French President Emmanuel Macron announcing France would be redirecting all its own additional SDRs to Africa and would encourage other rich nations to follow suit. This could see $100 billion in SDRs allocated to Africa by October 2021, three times the $33 billion the continent would receive without reallocation. However, the pace of disbursement is also an issue, with Finance Ministers from Côte d'Ivoire, DRC, Ghana and Nigeria calling for a clear road map for issuance and reallocation at the recent G20 meeting.
The elephant in the room: domestic resource mobilisation
In the long run, no recovery is sustainable without reliable domestic public revenues. An additional $285 billion is expected to be needed in funding on the continent between 2021 and 2025 to finance the recovery. This is on top of the $200 billion annual financing gap Africa was already facing to realise the Sustainable Development Goals. The issuance of new SDRs may help with short-term liquidity but will be insufficient to finance a long-term recovery.
This issue of domestic resource mobilisation will be analysed in depth in a forthcoming Research Spotlight.