Spotlight 8: Challenges of vaccine manufacturing in Africa
By Diego Fernandez Fernandez, Senior Analyst

The 2021 Ibrahim Forum Report, assessing the impact of COVID-19 in Africa one year on, sheds light on Africa's almost non-existent vaccine manufacturing capacities. In the short-term, African countries are focusing on working together to increase their access, currently still very low, to additional vaccine doses, with the African Vaccine Acquisition Task Team (AVATT) leading the continental strategy to achieve this. However, in the long-term, the focus is on upgrading and upscaling homegrown manufacturing capacity, to be better prepared for future pandemics. To achieve this goal, the African Union (AU) and the Coalition for Epidemic Preparedness Innovation (CEPI) signed a Memorandum of Understanding (MOU) at the margins of the conference on vaccine manufacturing, hosted by the Africa Centres for Disease Control and Prevention (AfCDC) and the AU on 12-13 April 2021.

Despite hosting almost 18% of the global population and representing about 25% of global vaccine demand, Africa still produces less than 0.1% of the world's vaccines and about 99% of its routine vaccines are imported.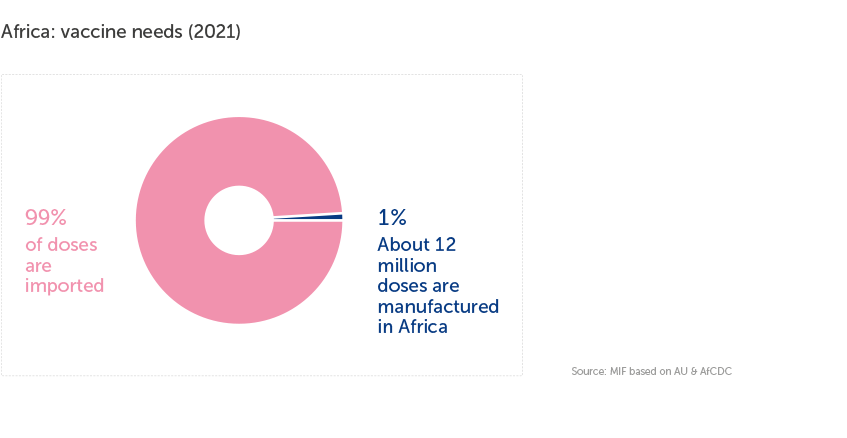 About 70% of global vaccine drug substance manufacturing sites are located in Western Europe (40%) and North America (30%), whereas global vaccine production is mostly concentrated in Asia, with about 42% of vaccines acquired from the top three Asian manufacturers (Bharat Biotech, BioMed and the Serum Institute of India).

As highlighted by Dr Okonjo-Iweala, Director-General of the World Trade Organization (WTO) during the 2021 Ibrahim Governance Weekend, the stark inequities in the global distribution of COVID-19 vaccines reveal the limitations of such concentrated production. Disparities in the global distribution of vaccine manufacturing capacities have also reinforced existing gaps in product availability in other critical areas, including Africa-specific diseases or health system challenges, such as cold chain requirements and dosage forms.
Research Spotlight series
A new series exploring data and key findings from the 2021 Ibrahim Forum Report.

Only 10 local vaccine value chain players in Africa
There are only 10 local vaccine value chain players in Africa, representing about 30% of overall vaccine value chain players on the continent. These are mostly concentrated in North Africa, South Africa and Nigeria, with the majority of African countries having no presence at all.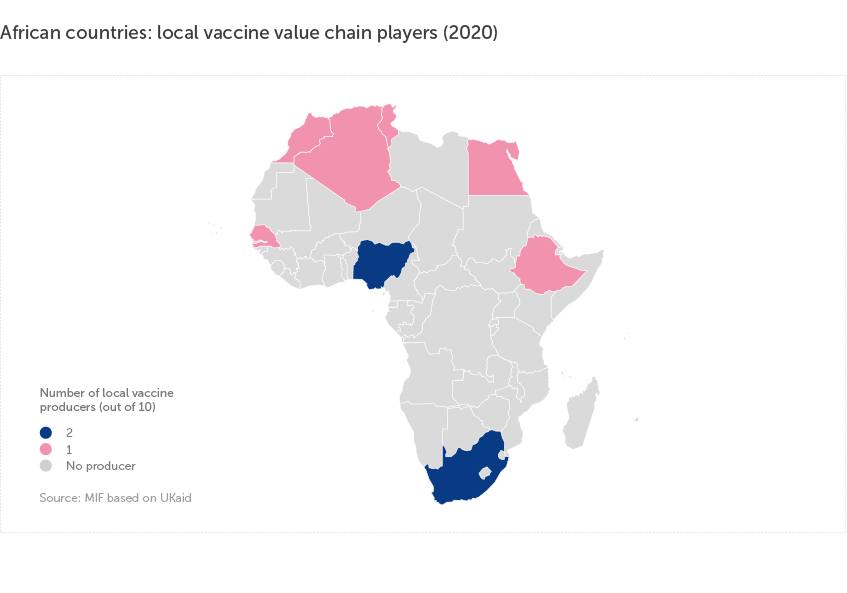 Vaccine value chain player is a manufacturer engaged in at least one stage of the vaccine value chain: Research & Development (R&D), Drug Substance (DS) manufacturing, fill and finish, packaging and labelling, or import for distribution.
Of the 10 local vaccine value chain players:
about 40% engage in packaging and labelling, and 40% engage in fill and finish

only five engage in some degree of drug substance manufacturing, but mostly on a very small scale

Research & Development (R&D) capacities are very limited on the continent and are only located in South Africa and Nigeria.
Existing manufacturing capabilities for related products can be harnessed
Existing manufacturing capabilities for related products represent a potential for vaccine manufacturing:
there are about 16 local animal vaccine players that could be leveraged for human vaccine manufacturing.

there are also about 80 local pharmaceutical companies (non-vaccine) that manufacture injectables in North African countries as well as Nigeria, South Africa and Tanzania. Given the primary dosage form in Africa is vials (approximately 80% volume of local procurement in 2019), injectable and sterile filling sites can help expand vaccine fill and finish activities.

About 26 local pharmaceutical companies manufacturing monoclonal antibodies (mAbs), mostly concentrated in Northern Africa and Southern Africa, also offer relevant know-how for vaccine manufacturing.
Ongoing negotiations to waive vaccine patents
The WTO's Trade-Related Aspects of Intellectual Property (TRIPS) framework constitutes the most comprehensive multilateral agreement on Intellectual Property (IP). From the very beginning of the pandemic, many have advocated for a temporary TRIPS waiver of patent rights over COVID-19 products – believing it could allow more widespread manufacturing worldwide, specifically in Africa.
The original TRIPS waiver proposal, put forward by South Africa and India, was not limited to vaccines. It included waiving protections for copyrights, industrial designs, patents, and trade secrets, for all subject matter related to fighting the pandemic. However, it left undetermined how long such a waiver would last. The negotiation process for this first proposal stalled, and by the 31 December 2020 deadline, the TRIPS council had only committed to continue considering the proposal.

After the United States announced its support (on 5 May 2021) for the TRIPS waiver negotiations and participation in the WTO's talks, a broader coalition of countries submitted a second TRIPS waiver proposal that same month. The revised waiver has a time limit of three years and only includes waiving protection for copyrights, designs, patents, and trade secrets for "health products and technologies including diagnostics, therapeutics, vaccines, medical devices, personal protective equipment, their materials or components, and their methods and means of manufacture for the prevention, treatment or containment of COVID-19".
This second waiver proposal still faces a lot of resistance from the European Union (EU), who in June introduced a separate proposal advocating for the immediate application of compulsory licensing processes existing within TRIPS, in light of the emergency of the pandemic.

An analysis by Imperial College of London commissioned by Doctors Without Borders (MSF), estimated the total cost needed for starting up mRNA vaccine manufacturing in an existing site and producing 100 million doses to be approximately $127 million for Pfizer-BioNTech's vaccine and $270 million for Moderna's. This is a fraction of the $2.5B of public money invested in mRNA vaccines and the $26B and $19B in sales revenue in 2021 forecasted for Pfizer-BioNTech and Moderna respectively.
Compulsory licenses (CLs) are when a government allows someone else to produce a patented product or process without the consent of the patent owner or plans to use the patent-protected invention itself.