Spotlight 13: Weathering the next crisis – the AfCFTA as a tool for resilience
By Ben Chandler, Researcher
With the long-awaited launch of the African Continental Free Trade Area (AfCFTA) in January 2021, trade is at the centre of the debate surrounding Africa's COVID-19 recovery. Against the background of recent macroeconomic growth that has failed to generate significant new employment opportunities for Africa's burgeoning youth population, the pandemic is refocussing attention on long-running debates over the trade structures underpinning the continent's growth models.
Trading with the world but not with each other
Many African economies occupy positions at the start and the end of global supply chains. Exports are heavily concentrated around a few products, principally primary commodities such as crude oil, gold, copper or cocoa beans, which are sent overseas for processing into finished products.
African countries: primary export destination of goods (2019)
Research Spotlight series
A new series exploring data and key findings from the 2021 Ibrahim Forum Report.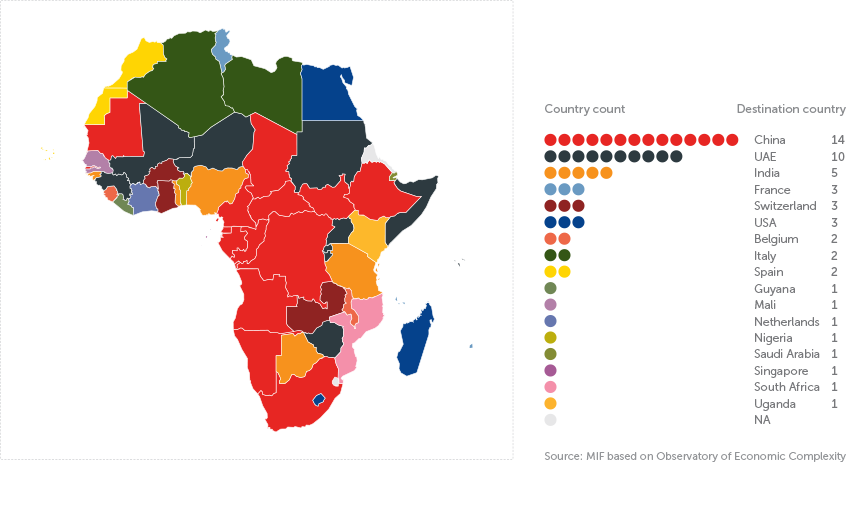 Imports are dominated by manufactured goods sourced from outside the continent. Most countries rely on external supply of essential goods, from food to vehicles, telecoms equipment, clothes, and pharmaceuticals.
In 2019, for over 90% of African countries the primary export destination was a non-African country, with China (14 countries) and UAE (10 countries) the most common partners.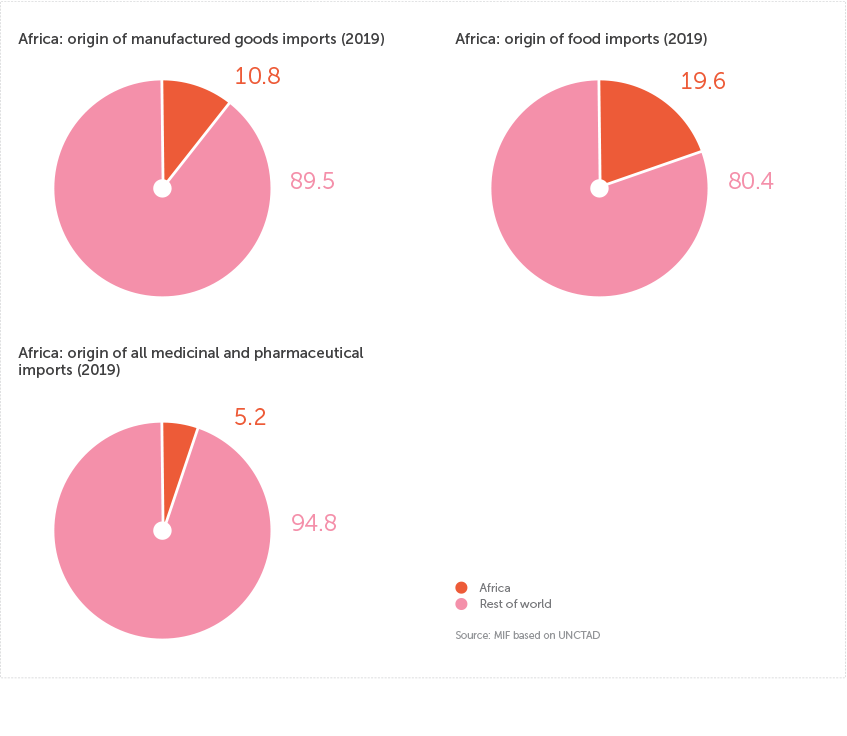 Intra-continental trade is consequently very low. In 2019, only four African countries counted another country on the continent as their main export partner. Intra-continental trade constitutes less than 15% of total trade, in comparison to 67.1% in Europe and 60.5% in Asia. The lack of intra-regional trade and dependence on external markets leaves the continent very exposed to crisis and shocks in other parts of the world.
Selected world regions: intra-regional trade (2019)
More than 80% of goods imports are sourced from outside Africa.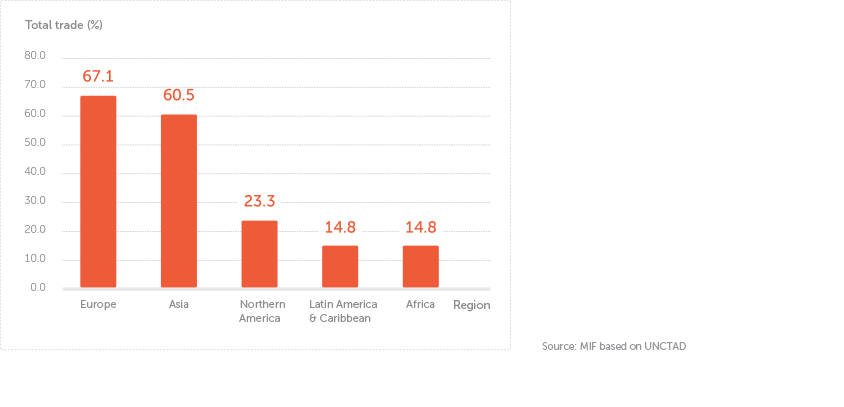 Vulnerable to headwinds
Commenting on the continent's trade structures and growth patterns, former United Nations Economic Commission for Africa (UNECA) head Carlos Lopes said the African continent will "grow rapidly yet transform slowly, making it vulnerable to headwinds". This vulnerability was laid bare by the pandemic.
When export partners closed their economies, the subsequent plunge in commodity prices triggered a liquidity crisis for many African governments and businesses. Most of the continent's floating currencies lost value against the dollar, pushing up the price of imports and external debt. The supply of essential imported goods was disrupted. Food prices skyrocketed, while exports of medical equipment were often restricted as richer countries cornered supplies. The consequences were severe. Unemployment rose to its highest level in ten years, millions slid into poverty, while government debt burdens spiralled.
World: Food Price Index (January 2015-March 2021)
Intra-regional trade in Africa is the lowest of any world region along with Latin America & the Caribbean.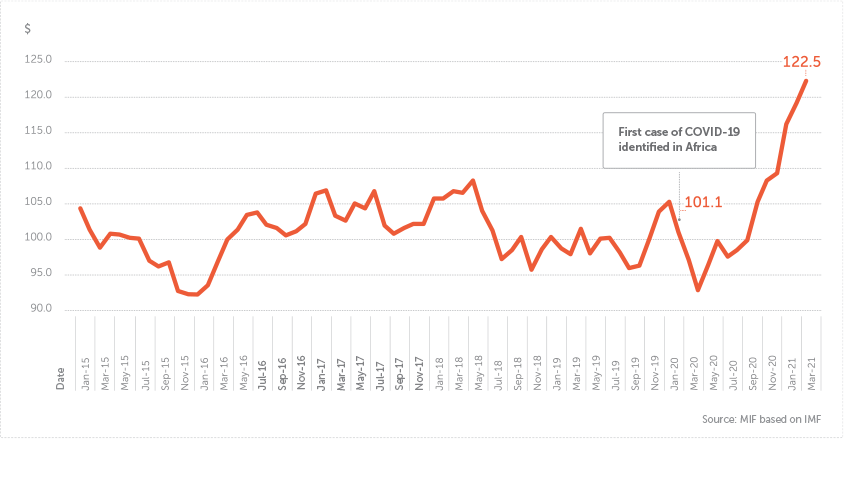 The AfCFTA as a buffer against external shocks
By boosting intra-African trade and generating regional supply chains the AfCFTA can improve the continent's resilience to shocks such as COVID-19. The AfCFTA commits signatories to the removal of tariffs on 90 percent of goods, to progressively liberalise trade in services and to address other non-tariff barriers. UNECA estimate that through the sole removal of tariffs the AfCFTA could boost the share of intra-African trade to over 50% by 2040.
Reducing the dependency on imports from other regions would provide greater protection from supply-chain disruption and devaluations against non-African currencies. Some parties have suggested that the agreement might be leveraged to produce quotas of essential goods for regional production, or to focus on areas of strategic importance such as health and environment. If the agreement can reduce African countries' dependence on exporting commodities overseas, currencies will be less subject to externally driven fluctuations and government revenues less dependent on the swings of international markets.
AfCFTA alone will not be enough
While the AfCFTA will be essential to generating the regional supply chains needed to weather the next crisis, it will not be enough on its own. It must be accompanied by progress in other African initiatives such as the Protocol on the Free Movement of Persons and the Single African Air Transport Market (SAATM). Projects under the Programme for Infrastructure Development in Africa (PIDA) designed to establish transnational transport corridors and telecommunications networks must be completed. Without the infrastructure to ease movement within the continent, intra-regional trade will continue to be costly and inaccessible, regardless of tariff reductions.
The success of related digital platforms will also be instrumental to building intra-African supply chains. Afreximbank's African Trade Gateway, an agglomeration of interrelated digital platforms, will be key to reducing the complexity of payment transfers within Africa. The Pan-African Payment and Settlement System will allow payments for intra-African trade in local currencies, while the Trade Information Portal will help African businesses to more easily identify potential suppliers of inputs or distributors of products elsewhere in the continent.
Finally, the benefits of the AfCFTA and its related projects must reach beyond multinational companies to small and medium enterprises. To create truly resilient intra-regional supply chains, governments must engage with and listen to the voices of smallholder producers, delivering an AfCTA that enables all to thrive.
Global food prices jumped by 26.0% between March 2020 and March 2021.