Spotlight 19: The African Continental Free Trade Area: an engine of transformation
By Ben Chandler, Researcher
With the long-awaited launch of the African Continental Free Trade Area (AfCFTA) in January 2021, trade is at the centre of the debate surrounding Africa's COVID-19 recovery. The pandemic induced global economic slowdown has had severe ripple effects for many African economies, placing the continent's existing trade structures under the microscope. These same structures, centred on external demand and supply, underpinned the pre-COVID economic growth that failed to provide jobs for the continent's youth. The AfCFTA provides a major opportunity to not just recover from the pandemic-induced slowdown but to break away from outdated models and drive a transformative post-COVID economy.
Trade structures need to change: Oil but no energy. Farms but no food
Many African economies occupy positions at the bottom of global supply chains, exporting primary commodities, such as crude oil, gold, copper or cocoa beans, as raw inputs for goods that are processed outside the continent.
Research Spotlight series
A new series exploring data and key findings from the 2021 Ibrahim Forum Report.
African countries: primary export destination of goods (2019)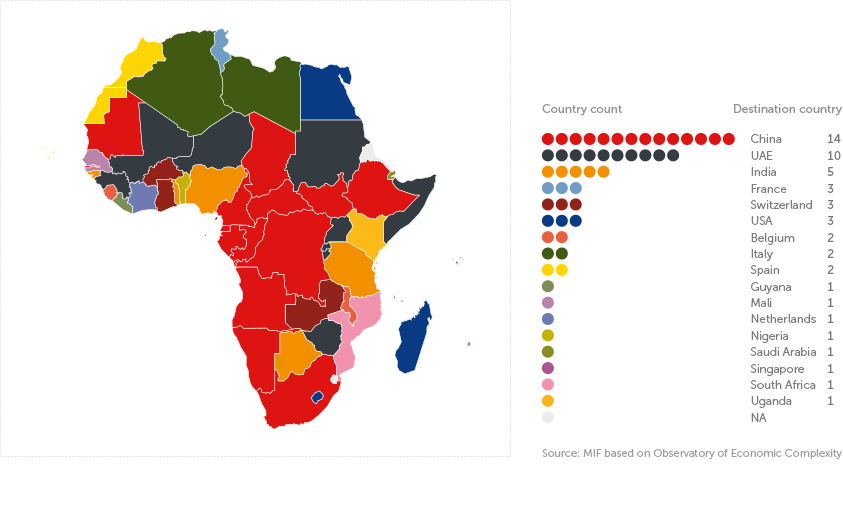 In 2019, for over 90% of African countries, the primary export destination was a non-African country, with China (14 countries) and UAE (10 countries) being the most common partners.

This flow of Africa's abundant natural resources out of the continent provides governments with foreign exchange, but prevents local value creation for African markets, while imports often fail to make up the shortfall. This leads to paradoxical situations, such as countries abundant in oil being short of energy and countries flush with arable land depending on food aid.
Nigeria, the 11th largest oil producer globally, exports most of its crude oil to India and the US, while importing billions per year in refined petroleum from Belgium, a country that does not extract any oil locally, and the Netherlands, a country whose proven reserves are almost 500 times smaller than Nigeria's. This counter-intuitive trade structure fails to provide for local populations, with millions in Nigeria and neighbouring countries lacking access to energy.
Nigeria and neighbouring countries: access to electricity (2019)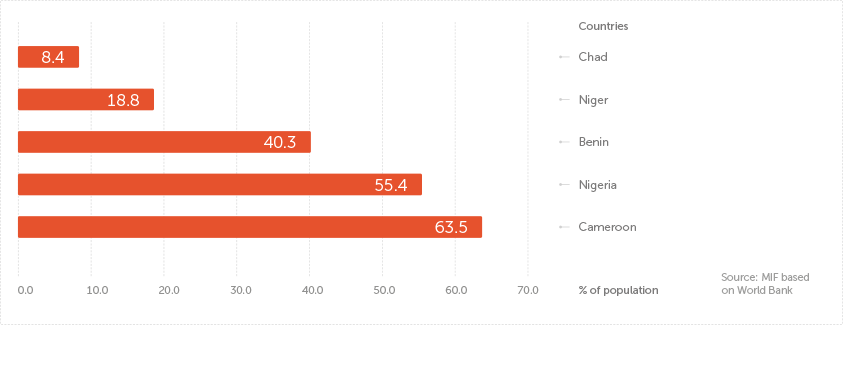 The Ethiopian agricultural industry is another case in point. Ethiopia's fertile soils are used by foreign investors to export unprocessed agri-products to Asian and European markets, where they are processed largely to feed Asian and European consumers. In 2019, the country exported $1.63 billion in agricultural commodities, with over 97% going to markets outside the continent. In the same year, the Ethiopian government appealed for $1.3 billion in humanitarian assistance to support more than eight million people in need of food aid, while all of Ethiopia's immediate neighbours requested food assistance at least once between 2018 and 2020.
The AfCFTA as a remedy: an engine for value addition and jobs
A core objective of the AfCFTA is to remedy such paradoxes by boosting intra-regional trade to support local supply chains. When African countries trade among themselves, they exchange more manufactured and processed goods, have more knowledge transfer, and create more value. Manufactured goods already make up a much higher proportion of intra-African exports than of exports leaving the continent—41.9 compared to 14.8 percent in 2014.
However, intra-African trade is currently very low, constituting less than 15% of total trade in Africa, in comparison to 67.1% in Europe and 60.5% in Asia. An expansion of intra-African trade could see more value-added to African resources, on the African continent, for African consumers.
Selected world regions: intra-regional trade (2019)
More than four in ten Nigerians lack access to electricity.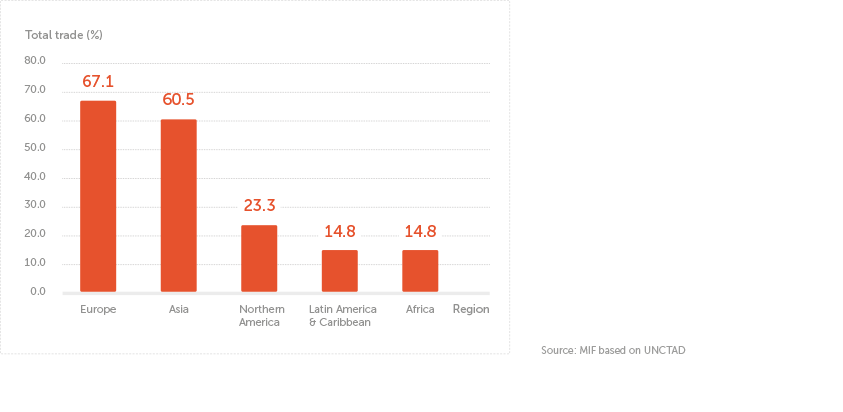 The AfCFTA commits signatories to the removal of tariffs on 90% of goods, to progressively liberalise trade in services and address other non-tariff barriers. The United Nations Economic Commission for Africa (UNECA) estimates that through the sole removal of tariffs, the AfCFTA could boost the share of intra-African trade to over 50% by 2040.
Africa's industrial exports are forecast to benefit most from the AfCFTA, diversifying Africa's economy and moving away from commodity dependence. If these forecasts prove correct, the AfCFTA can be a vital engine of industrialisation and job creation.
AfCFTA alone will not be enough
While the AfCFTA will be essential to generating the regional supply chains that can spur job creation and industrialisation, it will not be enough on its own. It must be accompanied by progress in other African initiatives such as the Protocol on the Free Movement of Persons and the Single African Air Transport Market (SAATM). Projects under the Programme for Infrastructure Development in Africa (PIDA), designed to establish transnational transport corridors and telecommunications networks, must be completed. Without sufficient infrastructure and ease of movement, intra-regional trade will continue to be costly and inaccessible, regardless of tariff reductions.
The success of related digital platforms will also be instrumental to building intra-African supply chains. Afreximbank's African Trade Gateway, an agglomeration of interrelated digital platforms, will be key to reducing the complexity of payment transfers within Africa. The Pan-African Payment and Settlement System will allow payments for intra-African trade in local currencies, while the Trade Information Portal will help African businesses easily identify potential suppliers of inputs or distributors of products elsewhere in the continent.
Finally, the AfCFTA and related projects must reach small and medium enterprises to prevent the agreement simply becoming a vehicle for multinationals. To create truly transformative intra-regional supply chains, governments must engage with and listen to the voices of smallholder producers.
Intra-regional trade in Africa is the joint lowest of any world region.