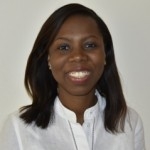 Yvonne is currently Adviser and Head of Africa at the Governance and Peace Directorate of the Commonwealth Secretariat. She also serves as Deputy Conference Secretary for the Biennial Commonwealth Heads of Government Meeting to be held in the United Kingdom in April 2018.
After her Fellowship with the African Development Bank, she served as Head of Office of the Commonwealth Deputy Secretary-General, supporting the oversight and coordination function of the Secretariat's political, legal and human rights teams. She subsequently became Adviser and Head of Africa of the Secretariat's political team in October 2014.
Yvonne is a qualified Ghanaian Lawyer who commenced her career at a private law firm in Ghana, and subsequently, at the law department of Ghana's Environmental Protection Agency. Her career in international development spans experience at the World Trade Organisation, Chatham House, the International Centre for Trade and Sustainable Development (ICTSD), and the Economist Intelligence Unit. She is married with two daughters.
Publications
What are the modern tools of democracy? – blog published on MIF and Commonwealth websites, April 2017
G. Shaffer and Y. Apea, Institutional Choices in the GSP Case: Who Decides the Conditions for Trade Preferences? The Law and Politics of Rights – Journal of World Trade Volume 39, 2005 Issue 6
G. Shaffer and Y. Apea, GSP Programmes and Their Background – Cottier & Pauwelyn: Human Rights and International Trade, International Economic Law Series, Chapter 8, Oxford University Press, 2005
E. Kessie and Y. Apea, The Participation of African Countries in the Multilateral Trading System – African Yearbook of International Law, Volume 12, 2004
Recent WTO Dispute Settlement Cases: Some Considerations for the ACP – Trade Negotiations Insights, Vol. 3 No. 5, September 2004
Links