Africa primarily trades with Asia now
Over the past two decades, Africa's trade partnerships have significantly shifted, with Asia emerging as the primary trading partner. This trend is evident in the figures, with 2021 trade data showing Asia accounts for over 40% of both Africa's exports and imports, surpassing Europe in both categories.
While the European Union (EU) remains the largest single market for African goods and the largest source of African imports, China has become the leading trading partner in terms of individual countries, in both exports and imports.
Africa's exports to India have increased remarkably since the year 2000, surging more than 11-fold.
African countries: destination of merchandise exports (2021)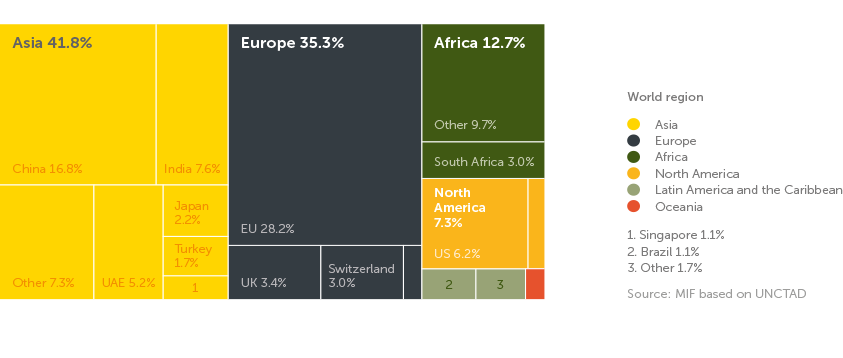 African countries: origin of merchandise exports (2021)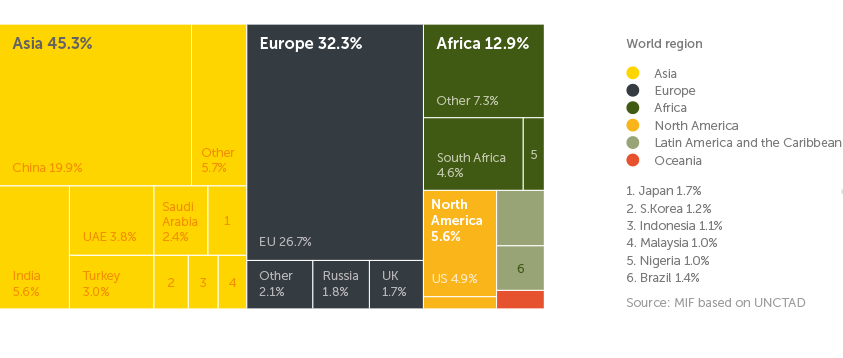 Europe and North America's share of Africa's trade has declined
In 2000, Europe was the destination for almost half of all African exports, while North America accounted for a larger share than Asia. The EU's share of Africa's export market has declined by one quarter since 2000. Meanwhile, North America's share has decreased significantly, by two-thirds during the same period.
Changing trade partners but the same trade model
Despite these changes in trading partners, Africa's trade model remains essentially unchanged since the colonial era. The continent continues to export its resources, particularly primary commodities, in raw or unprocessed states while importing manufactured products from outside the continent.
Primary commodities still account for more than three-quarters of Africa's exports, a far higher share than in any other region.
Africa mainly exports fossil fuels and minerals
Fuels, mainly fossil fuels like coal, oil, and gas, constitute the largest share of Africa's exports. Over 1/3 of Africa's exports are coal, oil, and gas; more than 3/4 of African fuel exports are to Asia and Europe. Despite such significant fuel exports, almost 600 million people in Africa still lack access to electricity.
Africa: destination of fuel export (2021)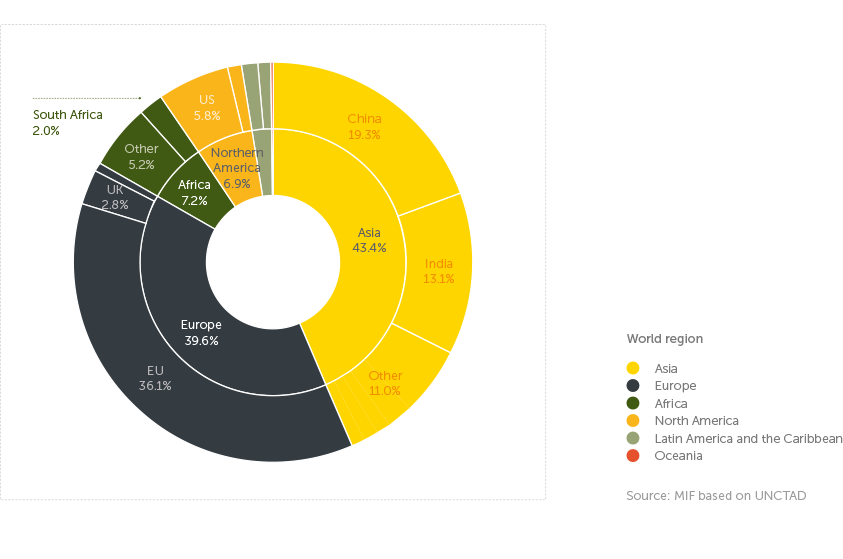 The Nigerian contradiction: fuel-abundant but energy poor
Nigeria's abundance of oil and gas reserves combined with energy poverty exemplify the weaknesses of this trade model.
Nigeria exports almost half (45.8%) of its crude oil to Europe and imports over 80% of its refined petroleum from Europe.
Nigeria refines 1 barrel of oil for every 4,132 refined in Europe, despite having more than twice the crude oil reserves.
In Nigeria, almost half (44.6%) of the population lack access to electricity and 85% lack access to clean cooking fuels.
Minerals, including metals, precious stones, and ores, account for the second most significant share of Africa's exports, with over half of these exports going to Asia. China leads the pack as the largest importer of African minerals, followed by the UAE and Switzerland.
Africa: destination of exports of ores, metals, and precious stones (2021)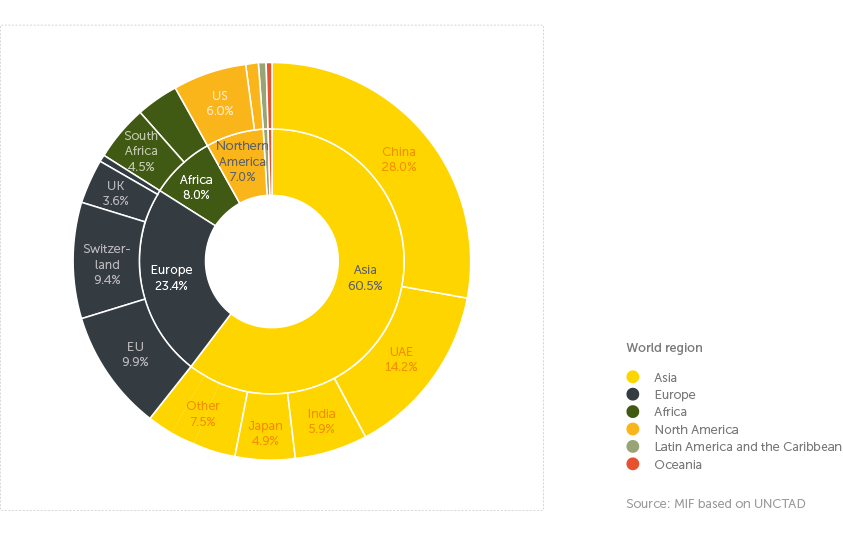 Congolese cobalt underpins China's world-leading battery industry
Congolese people are losing out to China on value chains in batteries that could be taking place domestically.
More than 70% of global cobalt is mined from DR Congo.
96.7% of Congolese cobalt is exported to China.
Cobalt's primary use is in batteries. China is the number one global exporter of batteries.
Key manufactured goods are imported from outside the continent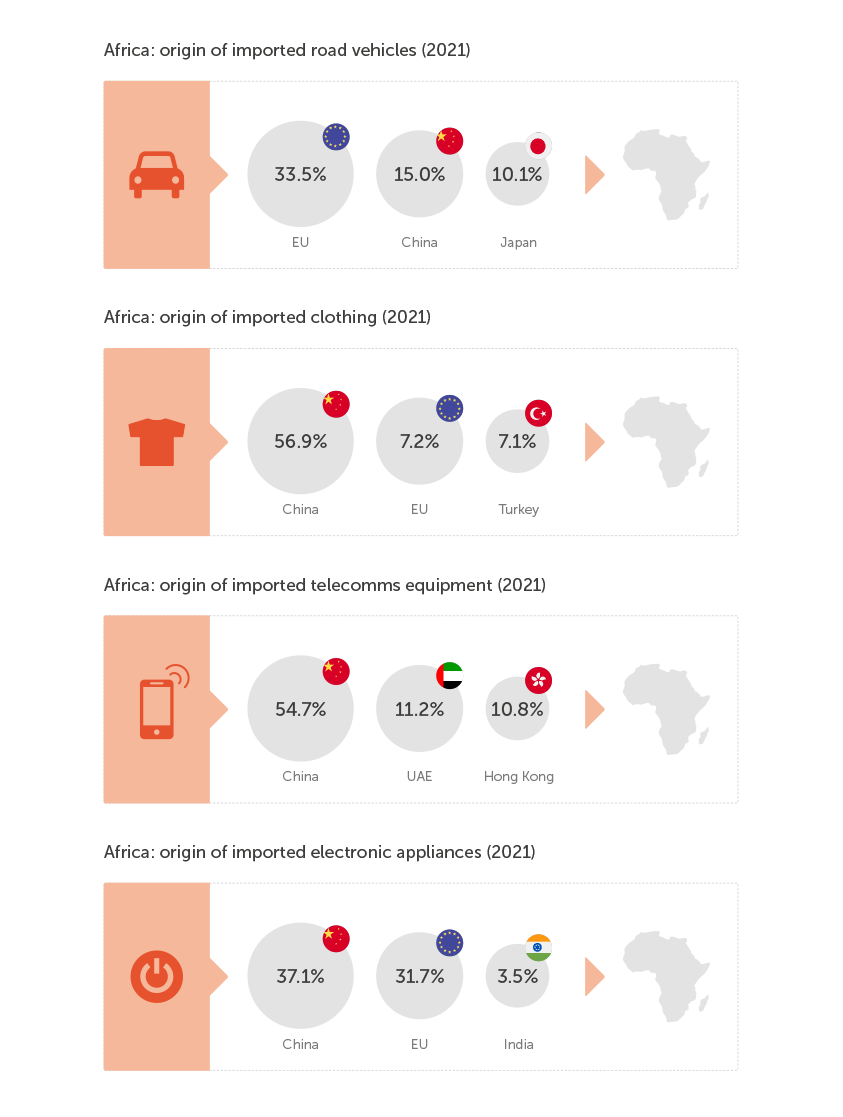 Persisting with this trade model will harm Africa's development goals
The persistence of the commodity-led export model indicates that while Africa's trade partners have shifted, the underlying economic structure has not undergone significant changes. If the continent continues to rely heavily on exporting raw materials and importing finished products, it will hinder its economic diversification and development.