The upcoming second Sustainable Development Goals (SDG) summit on 18-19 September in New York marks the halfway point to the deadline set for achieving the 2030 Agenda.
Africa scores better than OECD countries on climate and environmental goals, but poorly on goals related to human and economic development
On average, the SDG Index score for African countries has increased by +2.5 points since 2015, bringing it to 56.7 out of 100.0 in 2022. However, the average score for African countries is ten points lower than the global level score (66.7) and more than 20 points lower than that of OECD countries (77.8).
African countries perform better than other world regions in SDGs related to climate and environment. The five highest-scoring goals for African countries on average are Goal 13 - Climate action (96.7), Goal 12 - Responsible consumption and production (93.1), Goal 15 - Life on land (67.8), Goal 14 - Life below water (65.9), and Goal 8 - Decent work and economic growth (63.6). Four of these five goals are related to climate or environment. This is particularly evident in Goal 13 and Goal 12 where Africa scores close to ten points higher than the global level and almost 30 points higher than OECD countries.
Selected groups and regions: SDG index score in climate/environment related Goals (2022)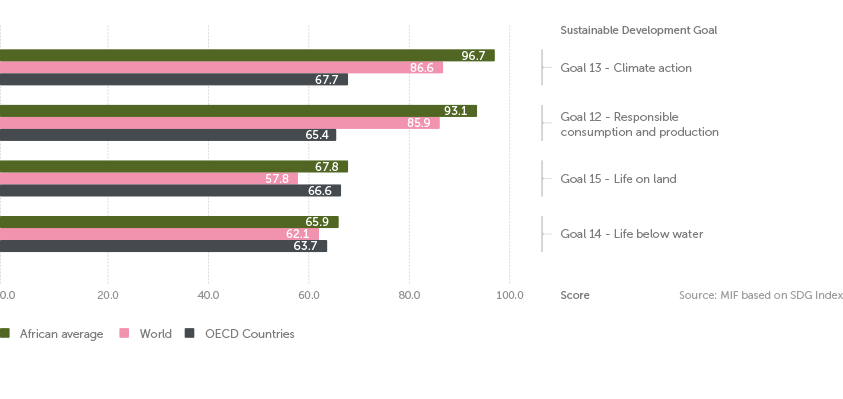 The three lowest scoring goals for the continent have been Goal 9 - Industry, innovation and infrastructure (28.2), Goal 7 - Affordable and clean energy (36.9) and Goal 1 - No poverty (43.9), goals that relate closely to economic and human development.
Despite these low scores, Goal 9 is the most improved on average across Africa since 2015 (+8.5) and Goal 1 the third most improved (+4.5). While progress is encouraging, there is still a vast gap between Africa and the rest of the world. The global score for Goal 9 (64.5) is over 35 points more than the African average and the OECD score (92.2) as much as 64.0 points higher. This represents the largest difference between Africa and the world out of all 17 goals
A trade-off between climate and development goals?
Critics of the SDGs have pointed to incoherence among policy goals. The data suggests a potential trade-off between certain goals, specifically those related to climate and development. Of the ten best performers globally in Goal 13 – Climate Action, five are among the worst performers in Goal 7 - Affordable and clean energy, five are among the worst performers in Goal 9 - Industry, innovation and infrastructure, and seven are among the worst performers in Goal 1 - No poverty. The clearest trade-off appears to be between infrastructure development and climate action. When looking at regional averages, the best performing region in Goal 9 (Northern America) is the worst performing region in Goal 13. Similarly, the worst performing region in Goal 9 (Africa) is best performing region in Goal 13.
Northern African countries perform best on SDG Index, but are not the most improved
At the country level, four of the five highest scoring countries on the continent on the 2023 SDG Index are in Northern Africa: Tunisia (72.5), Morocco (70.9), Algeria (70.8) and Egypt (69.6). Cabo Verde ranks fifth (68.8). Despite these high scores, none feature in the ten most improved countries since 2015. The five most improved countries are Côte d'Ivoire (+7.6), Benin (+7.3), Senegal (+5.5), Djibouti (+5.2) and Rwanda (+4.7).
The five lowest scoring countries are Niger (48.3), Somalia (48.0), Chad (45.3), Central African Republic (40.4) and South Sudan (38.7). Since 2015, five countries have seen their scores deteriorate, namely Liberia (-0.3), Zimbabwe (-0.7), São Tomé and Príncipe (-0.9), Algeria (-1.3) and Angola (-1.4).
Africa: SDG index score (2015 - 2022)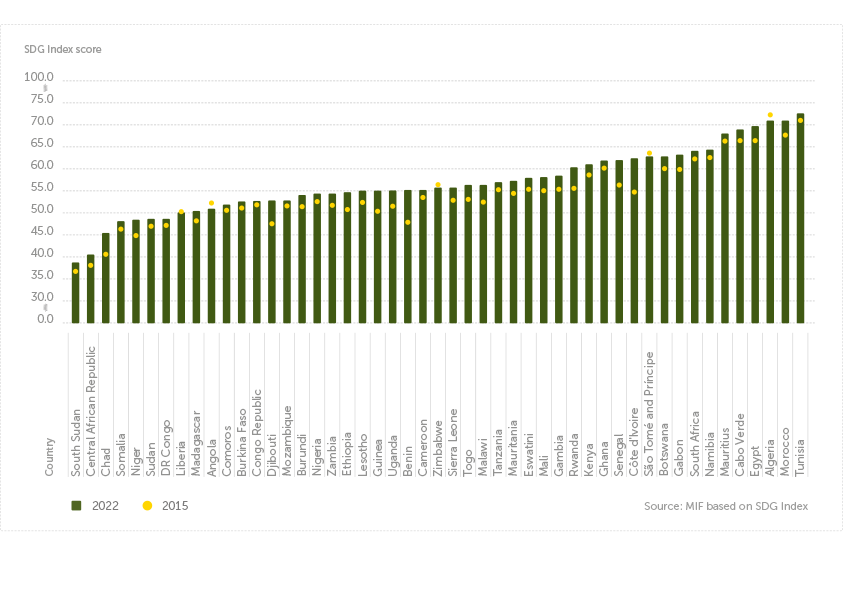 Concerning signs of stagnation appearing
Goal 16 - Peace, justice and strong institutions are one of only two goals to have deteriorated on average in Africa since 2015 (-2.3). However, over the last five years, four more goals have deteriorated: Goal 8 - Decent work and economic growth, Goal 11 - Sustainable cities and communities (-1.1), Goal 12 - Responsible consumption and production (-0.1), and Goal 14 - Life below water (-0.5). Additionally, in the case of Goal 16, almost 80% of the deterioration since 2015 occurred in the last five years with 1.9 points lost over the period.
Achievement of the SDGs at stake
It is promising that 15 of 17 SDG Goals have improved on average in Africa since 2015. However, progress has clearly slowed in the latest five years. If stagnation continues, then achieving the SDGs in Africa will not be possible.
This is not just a reality for Africa but for the world. The political declaration of the 2023 UN High-level Political Forum on Sustainable Development (HLPF) under the auspices of the UN General Assembly states that "the achievement of the SDGs is in peril" globally.
António Guterres, UN Secretary General at the High-level Political Forum on Sustainable Development, July 2023 "The world is crying out for high-level political action. Action to make the Sustainable Development Goals a reality — for everyone, everywhere. Without it, the 2030 promise is in danger of slipping away"
To achieve the SDGs in Africa, key challenges must be overcome:
Governance progress on the continent must be sustained
Good governance will be key to realising the SDGs. The 2022 Ibrahim Index of African Governance (IIAG) shows that governance progress has stagnated in recent years, largely driven by divergent underlying trends – while more than 40 countries have improved in the IIAG categories Foundations for Economic Opportunity and Human Development, more than 30 countries have deteriorated in the categories Security & Rule of Law and Participation, Rights & Inclusion.
New multilateral system, global financial pact for Africa and climate finance
Though crises such as COVID-19 and climate change are not African-born, Africa can offer key solutions. However, as it was articulated during the 2023 Ibrahim Governance Weekend (IGW) the current multilateral system is not giving due weight to Africa's voice. There is a serious need to modernise a multilateral system that is still based on power balances emerged out of the WWII to one that is more representative.
Additionally, it must transform the international financial architecture. Currently, the financing gap for realising the SDGs in Africa stands at $194 billion annually. When so many in the Global South cannot obtain the finance to meet their own development needs - or can only do so by placing themselves under an excessive debt burden – change is clearly needed. Of the eight African countries classified as being in debt distress by the IMF, five are among the ten countries to have seen the least progress in the SDGs since 2015.
Read more in our Global Africa Report.
Data gaps: better data coverage is crucial to SDG realisation
The lack of strong data systems is particularly apparent in Africa, where there is a general lack of comparable data. SDG indicators such as secondary school enrolment and completion have notable gaps. While of the 3 SDGs pertaining to climate change (Goal 13, Goal 14 and Goal 15), only Goal 15 - Life on land has official data for more than 33 African countries. Another issue is the lack of up to date and more specific data provided by National Statistical Offices, who face significant capacity constraints.
Data is missing at a moment in which the demand for data is highest. Statistics are perennially underfunded, currently attracting a mere 0.34% of total Official Development Assistance (ODA). As a result, the funding gap for properly monitoring the SDG indicators stands at approximately $200 million per year. Plugging this gap will be crucial for realisation of the SDGs.
The upcoming Mo Ibrahim Foundation (MIF) report will use the 2022 IIAG to provide a comprehensive mapping of the African data landscape with regards to measuring governance performance – showcasing data availability and highlighting main data gaps.