The emerging Moroccan aerospace industry shows the possibilities for youth job creation and benefits of tailoring education to industry requirements.
Tertiary education graduates in Morocco have graduated from a broader set of fields of study than most African countries. This provided a foundation for an emerging aerospace industry near Casablanca.
In 1997 the Moroccan Seddik Belyamini, then Boeing's Executive President for Worldwide Sales in Seattle, led an internal search within Boeing to identify what aerospace components might be reliably produced in Casablanca .
The study led to the creation of a joint venture – Matis – between Boeing, Royal Air Maroc, and the Moroccan firm Labinal to outsource assembly of wire harnesses to Morocco. Though initially expecting around 30% productivity growth, Matis achieved 70% within two years and now builds wire bundles for the Boeing 737, 747, 757, 767 and 777. Airbus, SNECMA, Bombardier, and Embraer have set up export facilities in the same industrial parks.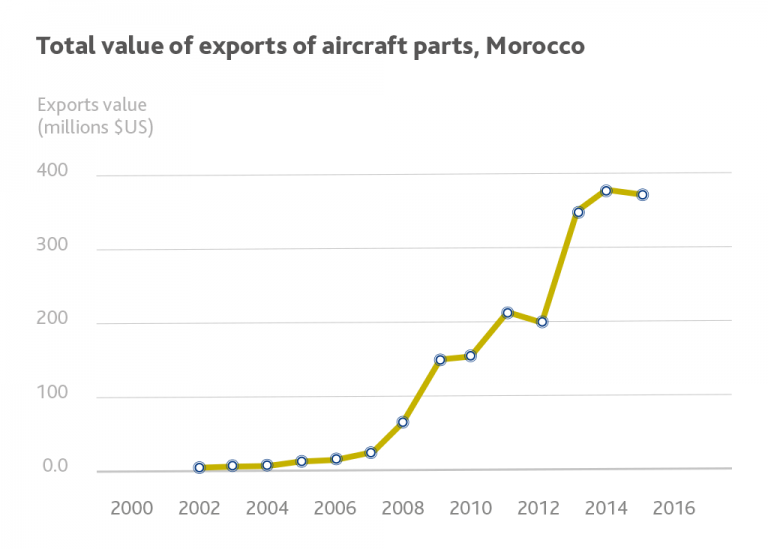 The total value of Morocco's exports of aircraft parts rocketed from $3.8m in 2002 to $369.6m in 2015.
According to the Balassa Index, Morocco's comparative advantage in airplane parts has likewise increased.
This diversification of exports is part of a structural transformation in the economy which has stimulated changes in education and foreign direct investment (FDI) promotion.
In 2009 Morocco renovated its Agency in Charge of Promoting FDI and also established an Institute for Aeronautical Training as a collaboration between the Organisation of Moroccan Aeronautics Companies (Groupement des Industriels Marocain Aeronautique et Spatial or GIMAS), the Union of Metallurgical Workers and the Ministries of Labour, Industry. GIMAS plays a central role in the design of the curriculum, with continuous course renovation to meet the needs of current and potential employers.