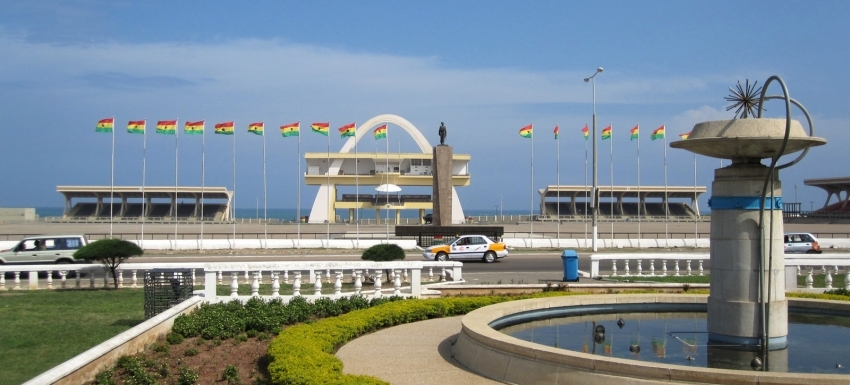 African Urban Dynamics
Accra, Ghana
The topic of the 2015 Ibrahim Forum topic was African Urban Dynamics.
It was a platform to identify key stakeholders and explore trends, issues and solutions that are crucial to unlocking the potential of Africa's urban centres as engines of sustainable and equitable growth and development.
In order to facilitate the discussion, this year's Facts & Figures report explores the specific scale and nature of urbanisation on the African continent. It addresses the associated challenges and opportunities that require strong governance and leadership in order to secure sustainable progress and development. The report takes into consideration different regional contexts and experiences as examples of best practice.
Related links
2015 Forum Facts & Figures
Panellists and sessions
An overview of the sessions and panellists. More detailed biographies can be found here. Videos of each session can be found below.
Urban trends: setting the scene
Although still a mostly rural continent, urban areas in Africa are now growing at a much quicker pace than any other continent has before. In the next 35 years, the African continent is expected to accommodate 866 million new urban dwellers, which is roughly the same amount (915 million) as Europe, USA and Japan combined have managed in 265 years, with much greater resources. Moreover, this immediate challenge is amplified by issues that are specific to Africa. African urbanisation is mainly driven by natural population growth, rather than by rural-urban migration.
Up until now, it has occurred without, or with only a weak link to, industry-driven, job-creating economic growth. Also, on a continent struggling with topographic and natural constraints, and as host to many current conflicts, the demands of the 21st century include climate change, growing migration flows and worsening security threats, all of which exacerbate the urbanisation challenge. This introductory session will set the scene for the discussions to follow, highlighting the main trends and challenges of Africa's urban dynamics.
Chair: Ngaire Woods, Dean of the Blavatnik School of Government, University of Oxford
| | |
| --- | --- |
| Akinwumi Adesina | President of the African Development Bank (AfDB) |
| Aisa Kirabo Kacyira | Deputy Executive Director, Assistant Secretary-General of UN-Habitat |
| Carlos Lopes | Executive Secretary of the United Nations Economic Commission for Africa (UNECA) |
| Kumi Naidoo | International Executive Director of Greenpeace |
| Henri-Bernard Solignac-Lecomte | Head of Unit, Europe, Middle East & Africa for the OECD Development Centre |
Urban structures: bottlenecks & priorities
Providing sufficient, affordable and sustainable infrastructure for the massive surge of urban dwellers is a central challenge. All sectors require attention, with equal levels of need and urgency, be it housing, energy, transport, water and sanitation or waste management. To be efficiently managed, this requires careful, focused and strategic urban planning, including specific attention on the balance with, and connections to, rural areas, as well as between primate and smaller cities. At the same time, demographic growth represents a huge potential market for the private sector. Properly addressed, with the opportunity to leapfrog, cities could create stronger links between African urban growth and development for the benefit of African citizens.
Chair: Trevor Manuel, Senior Adviser to the Rothschild Group
| | |
| --- | --- |
| Abdelmalek Alaoui | Founder – Guepard Consulting Group |
| Mokena Makeka | Principal of Makeka Design Lab |
| James Mwangi | Executive Director of the Dalberg Group |
| Khalifa Sall | Mayor of Dakar |
| Vera Songwe | IFC Regional Director for West and Central Africa |
Urban realities: potential vs. risks
Up until now, and counter to the historical trends of other continents, African urbanisation has not been led by economic structural transformation and growth. Any progress that has been achieved in infrastructure and access to basic goods and services has also widened inequality. Almost 50% of African urban dwellers currently live in slums, and the continent hosts more than a ¼ of the world's refugees. Youth unemployment – Africa's ticking time bomb – is 3 times higher in urban areas than in rural areas. The young, urban population need prospects. Indeed, cities have the potential to attract the most productive activities and African cities already generate about 55% of the continent's GDP. Under what conditions could cities become the main drivers of Africa's economic structural transformation, while ensuring that the key challenges of sustainability and equitability are properly met?
Chair: Clare Short, Senior Policy Advisor of Cities Alliance
| | |
| --- | --- |
| Liz Agbor-Tabi | Associate Director of City Relationships for 100 Resilient Cities |
| Valerie Amos | Former UN Under-Secretary-General for Humanitarian Affairs |
| Paul Collier | Co-Director of the Centre for the Study of African Economies, University of Oxford |
| Patricia de Lille | Mayor of Cape Town |
| Arancha González | Executive Director of the International Trade Centre (ITC) |
| Saïd Ibrahimi | CEO of Casablanca Finance City Authority |
Urban powers: financial autonomy & political balances
Addressing all of these issues requires sound governance and focused leadership. The ability of national governments to properly address daily life, individual concerns and global interdependent cross-border issues, is increasingly being questioned, specifically among the young people who form the overwhelming majority of the population of African cities. Local authorities may also contribute to a renewed sense of participation, public service and citizenship. This requires adequate urban governance policies, strong institutional capacities, sound and regular financial resources and balanced relationships across different levels of governance.
Chair: Zeinab Badawi
| | |
| --- | --- |
| Ian Goldin | Vice-Chair of the Oxford Martin Commission for Future Generations |
| Donald Kaberuka | Former President of AfDB |
| Moïse Katumbi | Former Governor of Katanga |
| Carlos Lopes | Executive Secretary General – United Nations Economic Commission for Africa |
| Tedros Adhanom Ghebreyesus | Minister of Foreign Affairs, Ethiopia |
| Parks Tau | Mayor of Johannesburg |
| Ngozi Okonjo-Iweala | Senior Adviser to Lazard |
Discussion with the Mayors
| | |
| --- | --- |
| Aisa Kirabo Kacyira | Former Mayor of Kigali |
| Patricia de Lille | Mayor of Cape Town |
| Khalifa Sall | Mayor of Dakar |
| Parks Tau | Mayor of Johannesburg |